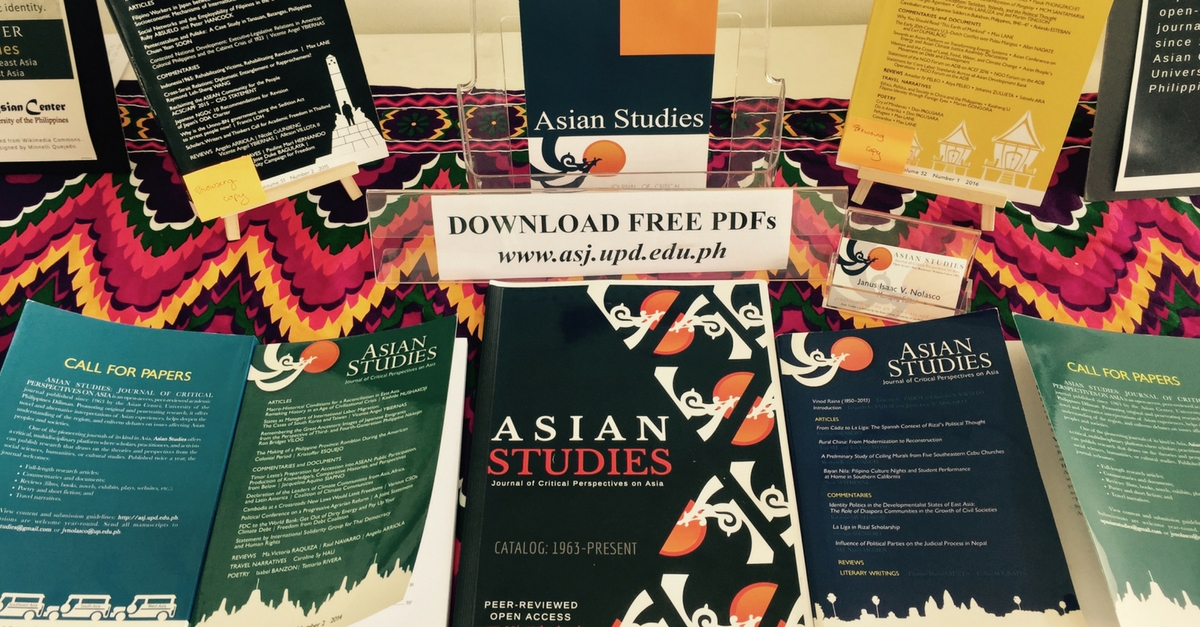 Asian Studies: Journal of Critical Perspectives on Asia is an open-access, peer-reviewed academic journal published since 1963 by the Asian Center, University of the Philippines Diliman. Promoting original and penetrating research, it offers novel and alternative interpretations of Asian experiences, helps deepen the understanding of the region, and enlivens debates on issues affecting Asian peoples and societies.
One of the pioneering journals of its kind in Asia, Asian Studies offers a critical, multidisciplinary platform where scholars, practitioners, and activists can publish research that draws on the theories and perspectives from the social sciences, humanities, and/or cultural studies. Published twice a year, it features research articles, commentaries, reviews, literary works, and travel narratives.
The journal has previously been given a CHED accreditation of B (Acceptable - Good).
Editor in Chief
Matthew Constancio M. Santamaria, Professor, Asian Center, University of the Philippines. VIEW PROFILE
Editorial Board (To Be Reconstituted)

Ricardo Jose, History, Asian Studies and Philippine Studies, University of the Philippines Diliman
Michelle Palumbarit, Asian Studies, University of the Philippines Diliman
Joefe Santarita, Asian Studies, University of the Philippines Diliman
Lily Rose Tope, English and Comparative Literature, University of the Philippines Diliman
Editorial Staff
Managing Editor: Danae Pantano (9 June 2022 to present)
Editorial Associate: Princess Cruz
International Advisory Board
Patricio N. Abinales, University of Hawaii at Manoa
Andrew Charles Bernard Aeria, University of Malaysia Sarawak
Melani Budianta, University of Indonesia
Urvashi Butalia, Zubaan Books (An imprint of Kali for Women)
Jamie Davidson, National University of Singapore
Caroline S. Hau, Kyoto University
Vedi Renandi Hadiz, Murdoch University
Huang Renwei, Shanghai Academy of Social Sciences
Reynaldo C. Ileto, Institute of Southeast Asian Studies
Benedict Tria Kerkvliet, Australian National University & University of Hawaii
Lau Kin Chi, Lingnan University
Lee Jung Ok, Daegu Catholic University
Francis Loh Kok Wah, Universiti Sains Malaysia
Armando S. Malay, Jr., University of the Philippines Diliman
Kinhide Mushakoji, Osaka University
Somchai Phatharathananunth, Mahasarakham University
Raul Pertierra, Philippine Women's University
Michael Pinches, University of Western Australia
Bambang Purwanto, Gadjah Mada Unviersity
Vicente Rafael, University of Washington
Helen Yu Rivera, University of the Philippines Diliman
Harsh Sethi, Seminar journal (New Delhi)
Wen Tiejun, Renmin University of China
Surichai Wun'Gaeo, Chulalongkorn University
Page last updated: 9 June 2022